BROADWAY TITLE COMPANY - HOW IT WORKS
---
Thank you for your inquiry regarding our services.
Please read the following information carefully, this will ensure processing of your transaction in a timely manner.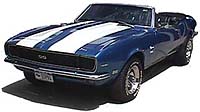 We use various states to title vehicles by using a Bill of Sale & Tag Receipt only.
We have affiliates in other states and the same procedures apply.
From that we can then obtain a registration for the vehicle in our name or that of our Affiliate Dealer.
As the owner, you may then turn these papers in and obtain a title in your state.
With this paperwork, you may then get the vehicle titled to you in your state.
Your Responsibility is to make sure that the vehicle is not currently titled in your state, stolen, salvaged or a kit car.
After five (5) years most titles are out of the system, but if you think you car is still in your state's computer, just contact your local "Department of Motor Vehicles" (DMV) and give them the VIN # from your vehicle. Then ask the status of the Title if any.
Naturally you will also have to abide by all of your state's regulations and requirements when transferring your paperwork. From example; if they normally require an inspection, you will have to have the vehicle inspected. If your state requires the vehicle to be complete and running before it is registered you will have to abide by these rules in order to transfer our paperwork. If you are unsure of what is required, we strongly recommend that you check with your state DOT prior to using our service. This is your responsibility. There will be no refunds given if you do not follow these instructions.
Click Here to Order Your Title
---
| Home | About Us | Services | Contact Us| Order Form |